In our previous article, we looked at Hatarakigai in Thailand and the keys to building meaningful work and workplaces. We will now take a deeper dive into the expectations and needs of employees.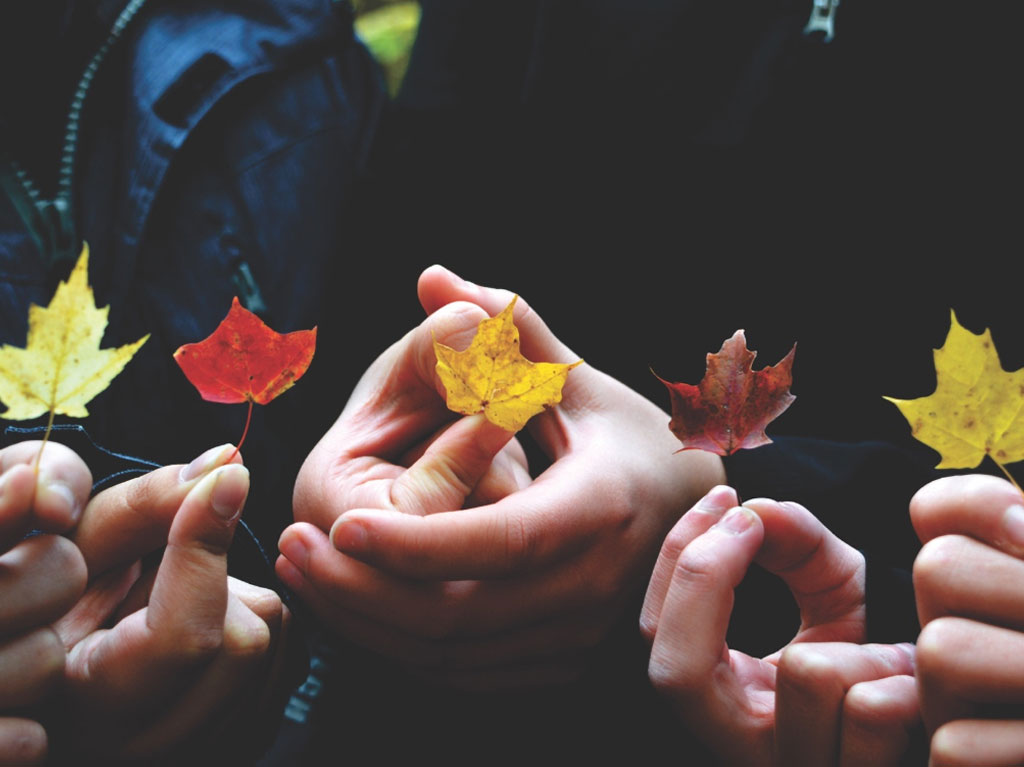 In December 2019, we conducted an in-depth survey* with employees working in companies in Thailand. We analyzed what created positive perceptions, reasons why they would (or would not) recommend their companies to others, intentions behind how long they intend to stay with their current employers, and their definition of what would make a company ideal and a truly great place to work.
Expanding on the items previously identified as having positive employees' perceptions that their company is a great workplace, our latest survey gives voice to these factors to paint a clearer picture of the thoughts and feelings behind these drivers.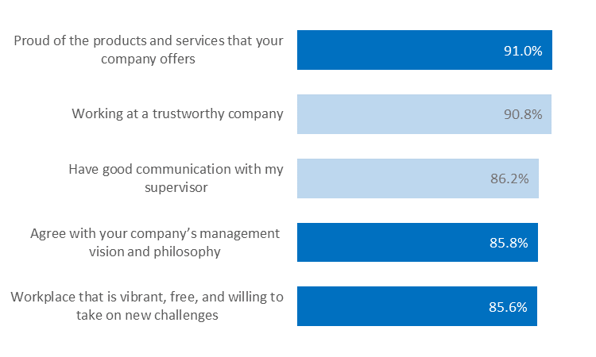 The following word cloud is a summary of reasons cited for why employees feel their company is a great place to work. Based on nearly 300 reasons cited as reasons, the size of each word or phrase also represents how frequently it was mentioned. We will focus now on the three factors with the highest correlation with a deeper analysis and commentary based on the key words aligned with these drivers.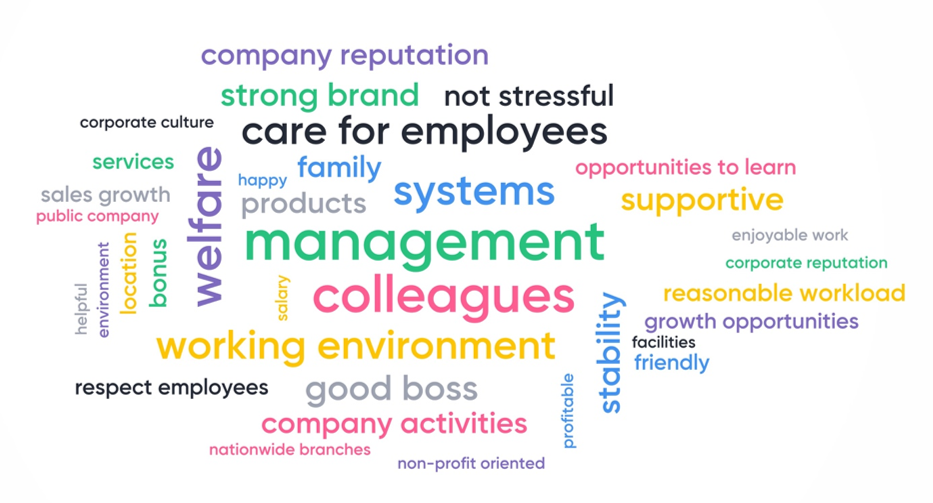 High Impact Items
"I am proud of the products and services my company offers."
Key Words: Sales Growth | Products | Services | Stability | Profitable
First and foremost, a company exists because of the products and services it provides for customers. Having such offerings that employees also feel proud of to contribute towards has shown to be the biggest reason for employees feeling happy about their company. Their source of pride comes from strong business performance, quality of deliverables, and the long-term operations. Here are some comments stated:
Strong revenues and profitable every year. (มีรายได้ประกอบการมีกำไรทุกปี)
Company is good and has quality. (เป็นบริษัทที่ดีมีคุณภาพ)
Company has excellent performance in the market and stable work.
(เป็นบริษัทที่มีผลประกอบการยอดเยี่ยมในตลาดและมั่นคงในการทำงาน)
"I agree with my company's management vision and philosophy."
Key Words: Management | Company Activities | Corporate Culture
Input creates output. Great input creates great output. When doing so, most companies focus on just two questions: WHAT we do? And HOW do we do it? Knowing an exact destination for what success looks like and having an effective plan to get there are obviously important. However, answering one more question can help turn passivity into passion: WHY do we do what we do?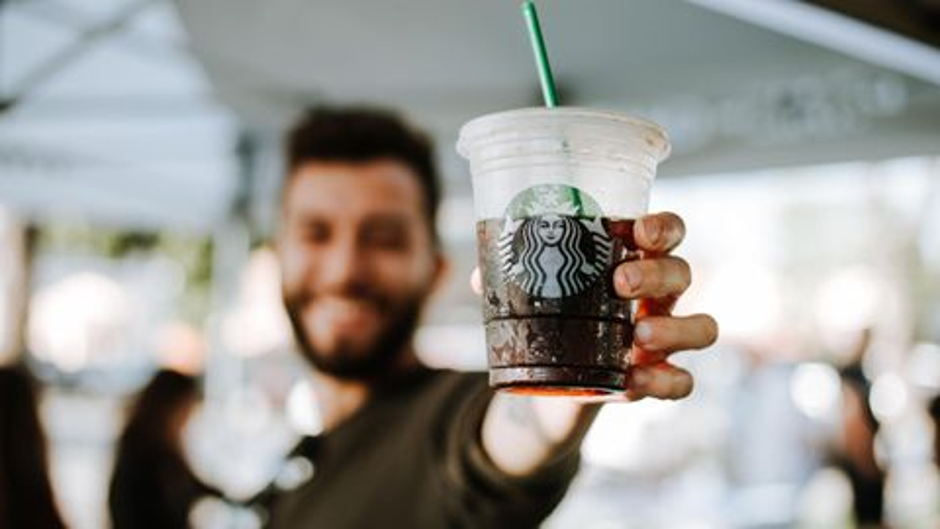 One example of how purpose can motivate is Starbucks. Starbucks employees do not think that their job is just to sell coffee. They collectively believe that it is their mission "to inspire and nurture the human spirit – one person, one cup, and one neighborhood at a time." People will work hard for a paycheck, but they will work hardest for a purpose. Here are some other comments from our survey that echo this need for purpose:
Have a good vision of doing business and good corporate culture.
(มีวิสัยทัศน์ที่ดีในการทำธุรกิจ มีวัฒนธรรมองค์กรที่ดี)
Work with a fair, transparent and verifiable system.
(ทำงานอย่างมีระบบ ยุติธรรม โปร่งใส ตรวจสอบได้)
Is a company that trains us to learn many new things
(เป็นบริษัทที่ฝึกให้เราเรียนรู้สิ่งใหม่ๆได้มากมาย)
"My workplace is vibrant, free, and willing to take on new challenges."
Key Words: Systems | Working Environment | Colleagues
Good working environment was also mentioned often. Good processes, as well as good people help to create a positive workplace. Have poor systems and unsupportive team members was also mentioned for reason for disengagement with their workplace.
Turning digital disruption into an opportunity to improve work processes
(เปลี่ยน digital disruption ให้เป็นโอกาสในการพัฒนาปรับปรุงระบบการทำงาน)
Have good working records and database system which helps employees to understand the work (มีการทำงานที่เป็นระเบียนและระบบฐานข้อมูลดีมากช่วยให้เข้าใจงานครับ)
Work seriously, systematically, and as a team
(มีการทำงานที่จริงจัง เป็นระบบ ทำงานเป็นทีม)
Working well together with each other means that the combination of the individual team members is equal to greater than just the sum of the parts. This requires a clear understanding of shared goals and how each person is expected to contribute towards them. Great companies create a supportive culture and create an environment where everyone expects nothing but the best from each other.
High Score Items
Additionally, two other items scored in the top five. Although they have a lower correlation, these items are also important and often mentioned when employees think about what makes a great workplace.
"I am working at a trustworthy company."
Key Words: Company Reputation | Strong Brand | Public Company
Working for a reputable organization also gave employees confidence. Some comments mentioned were:
Ranked number one for many consecutive years.
(ได้รับการจัดอันดับเป็นอันดับที่1ติดต่อกันหลายปี)
Customers of my company are well-known brands.
(แบรนด์ที่เข้ามาเป็นลูกค้าในบริษัทค่อนข้างมีชื่อเสียง)
My company is a leader at the country as well as the regional level.
(บริษัทเป้นผู้นำระดับประเทศและภูมิภาค)
"I have good communications with my supervisor."
Key Words: Good Boss | Care For Employees | Respect Employees | Supportive
People join companies but leave organizations. Having a good boss who communicates well and cares for the success of subordinates has a strong impact on engagement.
Good management of personnel management.
(การบริหารจัดการที่ดีในการบริหารบุคลากร)
Supervisors are fair. Management services is good overall.
(ผู้บังคับบัญชามีความยุติธรรม การบริการจัดการในภาพรวมดี
Care for subordinates. (ใส่ใจลูกน้องดี)
Next Steps: From Voice to Hatarakigai
While the overall reasons may seem common in most companies, each has its own uniqueness. Understanding how employees feel, on the issues that matter most is the first step towards creating meaningful work and workplaces. Building these elements to meet employees' expectation is a foundational step towards creating Hatarakigai. in our next article, we will look at two other important aspects – why employees want to SAY (recommend company to others) and STAY (intention to continue working with company).
---
*The in-depth survey was an online research conducted during December 2019 with white-collar employees in Thailand primarily based in greater Bangkok across four generational demographics based on responses from 200 total full-time workers.