What are consumers looking for in the post-pandemic world? What will people think about life after COVID-19? A new normal requires a new method for listening to the voice of people – online qualitative research
What is Online Qualitative Research
Online qualitative research is a qualitative research method conducted through video meeting systems such as Zoom*. By using such video meeting systems, the moderator can interview respondent(s) without needing a physical meeting space, while still being able observe subtle facial or bodily reactions. Broadcasting the interview session to selected observers is also possible, therefore project members can watch the live interview from anywhere without the need for travel
*Zoom is a registered trademark of Zoom Video Communications, Inc.

Advantages
Ability to access from anywhere
Participants can comfortably join an interview from their convenient location (home, co-working space, car, etc.)
Project members can access to observe the lifestyle of participants in more detail
Participants can show how the products mentioned in the interview are actually stored or used in their home (*advanced permission required)
Reduced physical obstacles
People who live in isolated areas can also easily join an interview as long as they have internet access.
Recruiters can approach people who might normally have difficulties coming to the interview venue or office (physical disability, work obligations, etc.)
Project members can watch interviews live online from anywhere, therefore active discussions can be conducted even before delivery of the interview report
Points of Concern
Recruitment limitations
Participants might be restricted only to those who have internet-accessible devices and technology literacy
On-screen communication limitations
Length of each interview is recommended to not exceed 90 minutes
Participants may feel more difficulties to exchange ideas and converse especially in group interviews
"Online" limitations
Online Interviews may not be best for showing new products/ideas because they may be recorded by a third-party / participants
Possible disconnections and interruptions during an interview due to weather or signal challenges, even though we check their internet environment in advance
How Online Qualitative Research Works
Project members can observe live conversations (video and audio) between a moderator and participant(s) by using a video meeting system. Simultaneous interpretation (Thai / another local language > English / Japanese / Chinese / Korean etc.) can also be provided during the interview session. Thus, there is no problem for other project members who don't understand the local language to observe the session.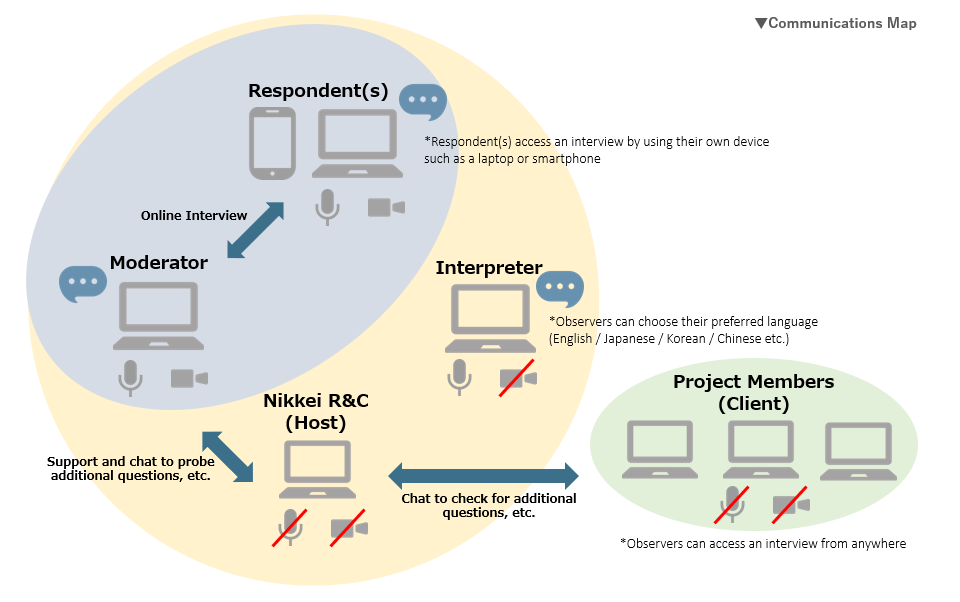 What We Can Do Using Online Qualitative Research
As we enter a new normal era, new methodologies may lead to new discoveries. So why don't we try to take a closer look? Actual lifestyles can be shown when respondents access from their favorite places. Actual needs can be found as we get closer to real life usage situations. Actual insights can be obtained via online qualitative research.
We can support you on a variety of needs based on your research objectives, from recruiting respondents, to creating interview guides, to arranging interpreters, summarizing transcripts, up to delivering comprehensive analysis reports.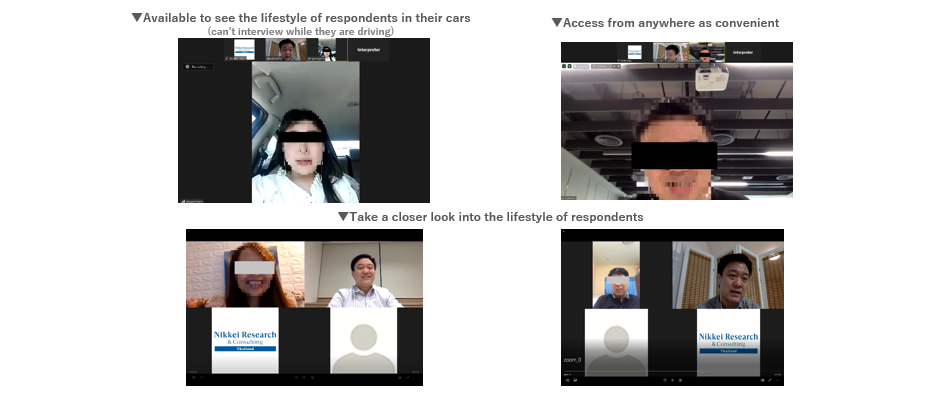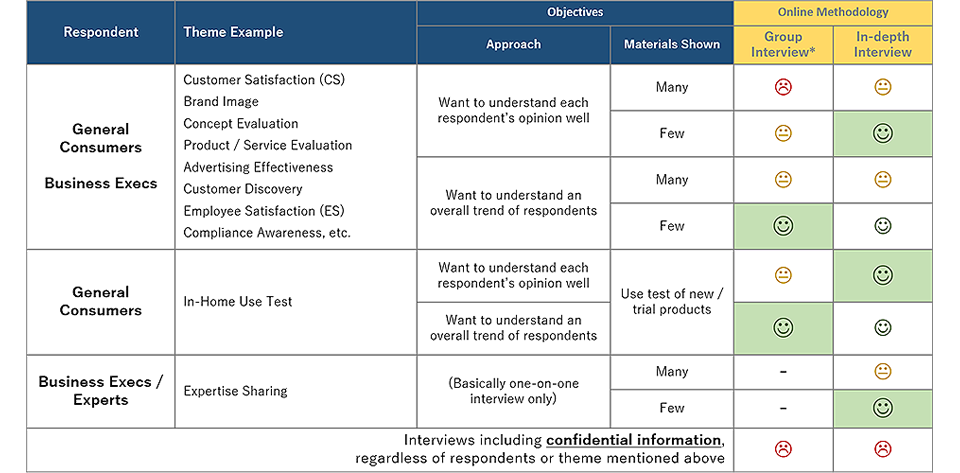 *Respondents tend to feel more difficulties in communication with others during online-group interviews, compared to face-to-face interviews, and may end up having less active conversations. Therefore, the maximum recommended number of respondents for each interview is 3-4 participants. Also, interviews might be broadcasted from venues where respondents gather to talk physically at, depending on the interview criteria and safety. **We use Zoom for online interviews unless special requests are made. If you prefer using another type of online meeting system, please let us know.